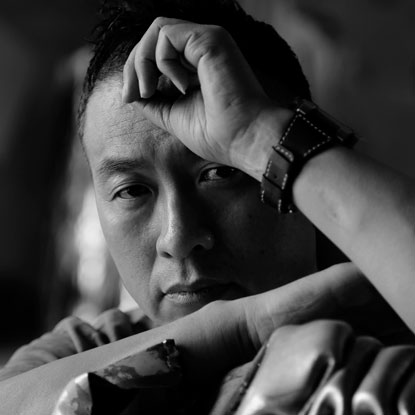 丁力在中国当代艺术领域,是一位鲜有的集绘画、雕塑、装置、影像于一身的艺术家,他游走思辨于世界语境中的自我探索,进而催生了对于个人艺术体系的深度思考。他从不受任何流派及学派的影响,而是在了解主流艺术形态的基础上不断去创造属于自己的非主流,其作品超越了任何国家、地域、宗教等因素的制约,习惯性的在创作中不断地推翻与自我颠覆,通过深度思考不期然地将综合的真实体验带入到创作中,并用他独特的生存经历和对现实的觉察进行思考,建立起强大而坚实的架构表达图式,致使在作品中重构一种超常态的文化场域,创造出属于自己纯粹而又鲜明的语言体系,他的作品足可令人驻足、亲近乃至感动。
他自幼受戏曲家庭影响颇深,对艺术有着天生的敏感与执着。青年时期,从未受过正规美术教育的他凭借自身的才华,自主创业从事公共艺术创作行业,并得到社会各领域的广泛赞誉。在近二十年的公共艺术生涯中,他大量实践了丰富的综合体艺术架构,从而奠定了极为饱满而浑厚的艺术经历。2007年他正式进入架上创作阶段,并运用中国古汉字结构确立了以贯穿东西方的线性语境,2016年成功在今日美术馆举办了"鸣凿鹫峰"首个个人艺术展,并受到界内的高度关注。之后不到两年间,却以惊人的速度对自己之前的艺术观念做了全盘否定,从而真正进入世界语汇下对独立意识形态与自我精神的探究。
Ding Li, as a contemporary artist in China, is among the very few whose talents cover diverse art forms like painting, sculpture, device, and photography. He wanders around the best fields of the Eastern and the Western cultures and these experiences help him construct a profound thinking system featured by his own particular artistic language. This dimensional expression system is abundant in spiritual and visual values. Ding Li depicts things from a completely new aspect, which carries his extraordinary emotional code and unconstrained imagination. He, with his unique technique, releases his sentiment accumulated in the objective world, and, with the vision of images, arouses the resonance of the audience on being involved in all the life forms. He infuses his inner spirit and life understanding into his works and the abstract expression is an approach to exploring the human nature and the universe.
Ding Li cannot be classified to any school and genre, but his works surpass the concept of country, region, nation, religion, politics, society, etc. In his past 30 creating years, he has been keeping on overturning himself, and seeking for the true freedom of spiritual expression. He never stops exploring, in various art forms, the relationship between his inner self and the unknown space, while trying to avoid adding any academic, conceptual, topical, or narrative element into his creation. His works can be perceived directly by soul without the interpretation of language, as redefines the concept of abstract art and extends the range of it to infinite possibility. So he constructs his visual works, unique and impressive.
2021年

北京丁力工作室"天作合一"丁力艺术实践现场;
中国历史研究院文创中心"回声"丁力个展;
2021年

"同构"当代艺术邀请展,深圳罗湖美术馆 ;
2020年

法国巴黎大皇宫135届独立艺术家沙龙展;
马耳他圣詹姆斯国家艺术中心"封藏"丁力个展;

2020年

135th"Art Capital" Grand Palais Art Fair, Group Exhibition, Paris, France;
Ding Li: Hidden by Sealing, Solo Exhibition, Spazju Kreattiv, Valletta, Malta;

2019年

意大利威尼斯58届双年展欧洲文化中心"个人结构"当代艺术展;
苏州金鸡湖美术馆"绘画的逻辑线"当代艺术展;
北京九美术馆"快闪艺术双年展";

2019年

Contemporary Art Exhibition: Personal Structures, 58th Biennale Art, European Cultural Centre, Venice,Italy;
Contemporary Art Exhibition: The logical Line of Painting, Group Exhibition, Suzhou Jinji Lake Art Museum, Suzhou, China;
Beijing Flash Biennale Art , Group Exhibition, Nine Art Museum, Beijing, China;

2018年

北京鸟巢文化中心"艺术与美学的不期而遇"艺术展;

2018年

The Unexpected Encounter between Art and Aesthetics, Group Exhibition, Bird's Nest Cultural Centre, Beijing, China;

2017年

北京CIFTIS 北京国际博览会;

2017年

CIFTIS International Fair, Group Exhibition, Beijing, China;

2016年

北京今日美术馆"鸣凿鹫峰"丁力个人艺术展;

2016年

Ding Li: The Sonata of Vastness with Ablaze Energy, Solo Exhibition, Today ArtMuseum, Beijing, China;

2008年

北大资源美术学院"交叉·穿越"学术交流展;

2008年

Academic Exchange Exhibition: Crossing and Intersection, Group Exhibition, Fine Arts Museum, Peking University, Beijing, China;

2007年

北京当代艺术中心"2007年青年艺术大展";

2007年

2007 Youth Art Exhibition, Group Exhibition, Beijing Center for Contemporary Art, Beijing, China;

2005年

中华世纪坛艺术馆"中国首届汉字艺术大展";

2005年

1st Chinese Character Art Exhibition Art Museum of China Millennium Monument,Beijing, China;

1964年

现工作生活于北京;
生于河北张家口市;

1964年

The artist lives and works in Beijing, China;
Born in ZhangJiakuo, HeBei province, China;

丁力:在消失的边界下"重建"
丁力在当代艺术领域,是一位独辟蹊径的探索者,也许用非***来定义他也略显主观,他更像是一个摆脱了艺术界定下的探险家。在他的作品中综合材料大胆的、不合常规的被运用,打破了传统形式美的法则以及人们固有的审美经验。
粗糙的布、黏着的工业物、沙粒和石头等等,似乎无形的将观者的眼睛蒙蔽,从而调动其他感官去触碰审美的另一种存在——那些我们命名的真实其实并不真实。当你真的假设失去了双眼时,也就是共情于作品的开始,那些坚固的、原始的、稚拙的痕迹仿佛触及你的皮肤传导至内心,真正意义的存在是视觉形式背后的掩藏——被视觉所消解后的重建,也可以说是另一种精神指向的存在。
另一方面,在他的作品中总是存在不能够被解释的符号,那些符号其实并不陌生,它始终存在于人的潜意识里不被察觉,它们与观念、主题、叙事等因素无关, 更超越了民族、宗教、社会的制衡,而是一种独特的精神标签,在每一个向往通达的灵魂深处闪耀。在他看来,所有关于客观和主观的界定都是片面的,回响的意义在于人们愿意花时间在作品前沉静下来,通过画面,作者完成了与观者的共情并最终折射出自发式的感知与思辨,在消失的边界下重建新的自我,才是作品希望传达的精神指向。丁力的作品里记录了他个人的世界观,经由不同感官的处理和转化,以谜样般的符号、涂鸦式的笔迹、类图形似的构成,都在探寻人性与万物之间的潜密码,艺术形式本身仅仅是人们内心通往谧境的入口,而心流过后触发的思考才是人性真正的彼岸。
Beyond Boundaries
Ding Li, in the contemporary art circle, is an original and independent artist. It would be too objective to define his art as non-formalism. Instead, he is more like the Lone Ranger who has surpassed all the concepts confined by art critic. He boldly applies to comprehensive and non-conventional materials, and breaks off the traditional aesthetic laws and the intrinsic aesthetic values. Rough cloth, sticky industrious materials, grains of sand, stones etc. shock the sight of the audience, so that the other senses of people could be triggered, and a different angle to appreciation are uncovered. ——The truth that we used to define are not true at all. Suppose that you have lost your eye sight, you would learn to appreciate the painting with the inner feelings, with which those solid, primitive, naive traces could permeate through your skin and pierce your heart. The true meaning must lie behind what your eyes see, ——it is to be reconstructed when the vision is destructed, and it is at the place where the soul rests.
Besides, there are always some unexplainable, but not unfamiliar symbols in his works. They are being stocked in one's subconsciousness, not perceived often, but they are independent from elements like concepts, themes, narrations, and surpass the counterbalance of nations, religions and societies. They are unique spiritual tags, shining at the end of the road leading to the depth of soul.
He contends that either being objective or subjective is a one-sided view. He looks forward to the phenomenon that the audience would love to spend time in front of the paintings, contemplating and fulfilling the empathy with the artist, and finally building up their own perception and comprehension. The hidden spiritual target of these works is to put up a space, cleared off with all the boundaries, where one can rebuild his true self. The artist Ding Li expresses his view of the world by enigmatic symbols, scrawling lines, shape-like structures, which have been disposed and transformed through the experiences of other senses though. He strives to explore the hidden codes in between human nature and the nature. The forms that he uses are just the approaches for one to access to the wonderland at his heart bottom. But only when the current of thinking flows, one can sail to the other shore of human nature.